We develop variety of styles and designs in accordance with the latest colours and trends in the short possible time. We use variety of fibers like cotton, jute, silk, chenille, rayon polyester and viscose.

Products
Printed Rugs, Printed Place mats, Loop Rug with lurex embroidery, Jute Rug with tapestry border, Jacquard Rug , Jacquard Place mats, Jacquard Throws, Printed Tufted Bath mats, reversible Bath mats, Chenille Rugs, Chenille throws solid and check, Cotton throws solid and check, Bed Cover, Bed Spreads, and Cushion cover
We have all the in-house facilities for tufting, weaving, stitching, finishing and designing.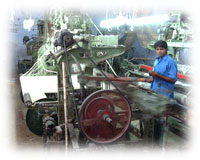 Infrastructure


Our home furnishing unit consisting of 45 Jacquard hand looms 115 Frame looms, 170 Pit looms, 26 Power looms ( Jacquard and Dobby ) 8 Shuttle less, 95 Tufting machine is fully equipped to undertake production on a large scale.

Our clients


The countries we have exported to include USA, UK, FRANCE, TAIWAN and BRAZIL.

As we have catered to different buyers across the world.

Our motto is to complete satisfy our client while generating a mutually profitable and long term business relationship.